The family of Gabby Petito on Monday announced a wrongful death lawsuit against police in Moab, Utah, accusing the department of failing to properly investigate her domestic violence case and protect her.
The lawsuit, which seeks $50 million in damages, comes around the first anniversary of Petito's death.
Petito was 22 when she was reported missing in September 2021. She was on a monthslong cross-country trip living in a van with her fiancé, Brian Laundrie.
Petito's body was found in Bridger-Teton National Forest in Wyoming on Sept. 19, 2021. It was determined she had been dead for at least three weeks and her death was ruled a homicide by "manual strangulation." Laundrie, who was named a person of interest in the case, was found dead from a self-inflicted gunshot wound in Florida's Carlton Reserve in October 2021.
Laundrie admitted to killing Petito in writings that were found after his death.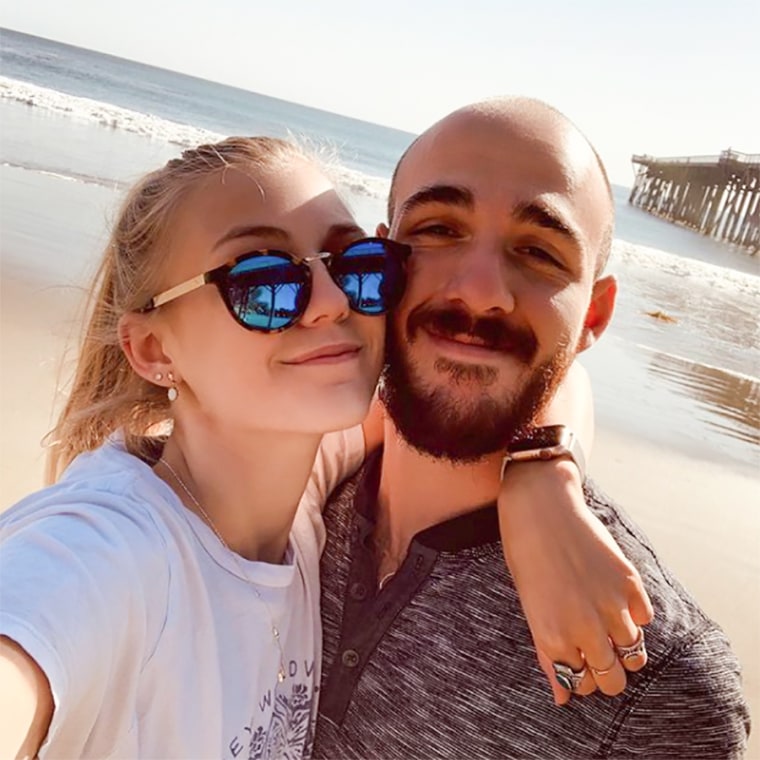 The notice of intent filing, which is required before suing government entities, was filed against the Moab City Police Department, its then-Chief Bret Edge, ex–Assistant Chief Braydon Palmer, and Officers Eric Pratt and Daniel Robbins.
The Moab City Police Department did not immediately respond to an NBC News request for comment. A representative for the city of Moab said it does not comment on pending litigation.
The suit will centeron a police encounter with Petito and Laundrie on Aug. 12, 2021, during their trip in Utah, shortly before her death.
That interaction made headlines following Petito's disappearance, with body camera footage released showing Petito visibly distraught. According to the police report, Petito told officers she had slapped Laundrie and hit him first and that he had grabbed her face.
But ultimately, both Petito and Laundrie said that they did not want to press charges and that they loved each other.
An independent review, completed in January this year, found that the officers made several mistakes in handling that case —misclassifying it as more of a mental/emotional health "break" rather than domestic violence, and lacking details in their reports.
Their reports lacked details or documentation of any injury Petito suffered — and no one appeared to ask Laundrie about a scratch on Petito's cheek, the independent review found.
In the new filing, lawyers for the Petito family argue that had police officers involved in that incident had proper training — teaching them to conduct a thorough lethality assessment and recognize signs of abuse — they'd know "Gabby was a victim of intimate partner violence" and needed "immediate protection."
In that incident, Laundrie and Petito were stopped in their van by officers who saw the vehicle speeding, crossing the double yellow line and hitting a curb near Arches National Park. A witness had called police, reporting they saw Laundrie "slapping" Petito.
Officer Daniels and Robbins interviewed Petito and Laundrie separately. 
Robbins said he observed cuts on Gabby's cheek and arm in his report, but court documents said that when she was asked about her fight with Laundrie, she "displayed the classic hallmarks of an abused partner" in trying to take the blame saying she hit him first and didn't want to be separated from him.
Lawyers for the Petito family said a new photo, that hasn't been released to the public yet, shows a close-up of Gabby's face "where blood is smeared on her cheek and left eye."
After Brian Laundrie's remains were found in a Florida reserve, new details have come to light about his passing.
Following a grueling investigation, FBI Denver announced Friday that Brian Laundrie is believed to be responsible for 22-year-old Gabby Petito's murder.
Laundrie, 23, was named a person of interest in the disappearance of his fiancée on Sept. 15, though authorities failed to declare him a suspect in her murder before his death.
A notebook discovered alongside Laundrie's remains revealed written statements by Laundrie that took responsibility for Petito's death, the FBI stated.
"All logical investigative steps have been concluded in this case," FBI Denver Division Special Agent in Charge Michael Schneider said in Friday's statement. "The investigation did not identify any other individuals other than Brian Laundrie directly involved in the tragic death of Gabby Petito.
Laundrie and Petito had spent the summer traveling across the country in a white van together, documenting their adventures on YouTube along the way — but on Sept. 1, Laundrie quietly returned to his parents' home in North Port, Fla., without Petito.
Ten days later, the 22-year-old woman's family reported her missing.
On Nov. 23, the Laundrie family's attorney confirmed the 23-year-old's cause of death. "Chris and Roberta Laundrie have been informed that the cause of death was a gunshot wound to the head and the manner of death was suicide," attorney Steven Bertolino tells E! News in a statement. "Chris and Roberta are still mourning the loss of their son and are hopeful that these findings bring closure to both families."
This news comes one month after the former fiancé of the late YouTube creator Gabby Petito's human remains were discovered at the T. Mabry Carlton, Jr. Memorial Reserve and Myakkahatchee Creek Environmental Park on Oct. 20. In late October, FBI Denver announced that they had found Brian's remains, writing on Twitter at the time that "a comparison of dental records" confirmed his identity.
A spokesperson for the North Port Police told NBC News that the 23-year-old's remains were "skeletal."
After Brian was confirmed dead, the Laundrie family attorney, Steve Bertolino, said in a statement, "Chris and Roberta Laundrie have been informed that the remains found yesterday in the reserve are indeed Brian's."
He continued, "We have no further comment at this time and we ask that you respect the Laundrie's privacy at this time."
On Oct. 24, the Laundrie family attorney revealed that Brian's parents wouldn't hold a traditional funeral service for him, and instead, announced that he would have his remains cremated, according to multiple media outlets.
Florida law enforcement officials stated during a press conference that the partial human remains, as well Brian's backpack and notebook, were discovered at the reserve in an area that was previously underwater.
Gabby was found dead in Wyoming's Bridger-Teton National Forest on Sept. 21. Authorities had previously named Brian a person of interest, not a suspect, in the investigation.
On Oct. 12, the Teton County Coroner's Office announced that she died of strangulation, adding that her time of death was estimated to be three to four weeks before her body was found.
"We're just hoping that through our tragedy losing Gabby, that in the future, some good can come out of it, that we can help other people who may be in a similar situation," Gabby's stepfather, Jim Schmidt, told reporters during a press conference at her memorial service on Sept. 26. "We need positive stuff to come through this tragedy that happened. We can't let her name be taken in vain. We need positive stuff."
On Sept. 11, the YouTuber was first reported missing by her parents, nearly a week and a half after her fiancé returned to Florida alone following their cross-country road trip together. In addition, police stated that Brian's family had said to not have seen him since Sept. 14. They reported him missing as well. However, Brian hadn't spoken to law enforcement before his disappearance.
One week after his disappearance, police issued a federal arrest warrant for Brian. In the document obtained by E! News, he was accused of using an unauthorized debit card and bank account between Aug. 30 and Sept. 1.
In a statement to E! News, the Laundrie family attorney addressed Brian's warrant: "It is my understanding that the arrest warrant for Brian Laundrie is related to activities occurring after the death of Gabby Petito and not related to her actual demise. The FBI is focusing on locating Brian and when that occurs the specifics of the charges covered under the indictment will be addressed in the proper forum."
Get all the details surrounding Gabby's case here.
Cryptic Message Found In Journal After Brian Laundrie Killed Himself In Florida
What appears to be human remains and items belonging to Brian Laundrie, including a backpack, have been found in the Carlton Reserve in North Port, Florida, according to FBI Special Agent in Charge Michael McPherson. Another one of the items found was a notebook belonging to Laundrie, who McPherson said was "a person of interest in the murder of Gabby Petito."The apparent remains were found in an area that has been under water until recently, he said.
Justice will not be served in this case.
The source said "based on the condition of the remains, it may take some time to officially identify. It is going to be a very thorough process with the medical examiner."
The apparent human remains "appear to have been there a while
North Port police spokesperson Josh Taylor said the remains were found "about 2 to 3 miles inside the Carlton Reserve, or about a 45-minute walk" from the entrance at Myakkahatchee Creek Environmental Park.Family attorney Steve Bertolino told CNN's Chris Cuomo that the Laundrie parents — making their first visit to the park since its reopening — helped with the discovery. "As happenstance was, they stumbled upon these items," he said.The area where the discovery of remains was made was the "very area of the park that we initially informed law enforcement on," Bertolino said, referring to a meeting with law enforcement on September 17.
Laundrie's parents had informed the FBI and the North Port Police Department on Tuesday night that they intended to come to the park on Wednesday morning to search for him, Bertolino said. Law enforcement met them there Wednesday morning, he said.The parents walked the trail followed closely by law enforcement personnel, "certainly within eye shot," the attorney said."As they went further in, Chris ventured off the trail into the woods.
He was zigzagging in different areas, law enforcement was doing the same thing. And Roberta Laundrie was walking down the trail," Bertolino said. "At some point, Chris locates what's called a dry bag. The dry bag is a white bag, laying in the woods, say 20 feet or so off the trail."Bertolino said, according to Chris Laundrie, the dry bag was in some brambles and he didn't want to pick up the bag, because he wanted his law enforcement to see it.
However, Bertolino said Laundrie "couldn't find the law enforcement," because they were then out of sight and didn't want to leave the bag there with a news reporter standing nearby, so he picked it up. "He did meet up shortly with law enforcement, they looked at the contents of the bag. At that time, law enforcement officers showed him a picture on the phone of a backpack that law enforcement had located also nearby and also some distance off the trail," Bertolino told CNN. "At that point, the Laundries were notified there was also remains near the backpack, and they were asked to leave the preserve."Bertolino called the suggestion that Chris Laundrie had planted the dry bag "hogwash."The attorney said the family was heartbroken by the discoveries today.
FBI processing scene
The FBI Tampa's Evidence Response Team is on the scene using "all available forensic resources" to process the area. According to McPherson, it's likely the team will be on the scene for several days. "I know you have a lot of questions, but we don't have all the answers yet," he said reading a statement for the media.
The discovery comes 37 days after Laundrie, the fiancé of Petito, was reportedly last seen by his parents. Earlier, the Sarasota County medical examiner and a cadaver dog were called to the park and aerial footage showed activity in the Carlton Reserve near the Myakkahatchee Creek Environmental Park where Laundrie's car was found parked in September.
Edit

Brian Laundrie's Notebook Confession Reveals He Murdered Fiancée Gabby Petito