Instead of creating a housing bust, the pandemic helped spur one of the most competitive—and tight—housing markets in recorded U.S. history. Between August 2020 and August 2021, home prices soared a record 19.9%—dwarfing the previous biggest 12-month price jump (14.1%), which came in the period leading up to the 2008 meltdown.
You might also enjoy checking out some
Florida vacation properties…218-393-1550 Florida Realtor Lawrence Herstel
Charles Rutenberg Realty 1545 S Belcher Rd, Clearwater, FL
But that level of price growth is expected to come down. This fall, the housing market finally started to slow a bit, as more inventory hit the market and fewer buyers engaged in bidding wars. While the industry benchmark S&P CoreLogic Case-Shiller Home Price Indices have yet to publish readings for September and October, industry insiders told Fortune they are already starting to see price growth decelerate.
"We've fallen into a more boring housing market compared to what we've seen since the start of the pandemic," Ali Wolf, chief economist at Zonda, told Fortune. "Despite the pervasiveness of sticker shock, some consumers are choosing to charge forward in today's less feverish market to secure a home and lock in a historically low (and rising) mortgage rate."
You might also enjoy checking out some
Florida vacation properties…218-393-1550 Florida Realtor Lawrence Herstel
Charles Rutenberg Realty 1545 S Belcher Rd, Clearwater, FL
Fannie Mae sees prices rising 7.9% in 2022. Zillow Research is more bullish, projecting 13.6% price growth in the next 12 months. And Ed Pinto, director of the American Enterprise Institute's Housing Center, told Fortune's Shawn Tully that prices could still rise in the high single-digits to low double-digits.
The most bearish 2022 outlook comes from CoreLogic, a Fortune 1000 real estate data firm. Earlier this week, the company went so far as to downgrade its price growth estimate for the coming 12 months, going from 2.2% to 1.9%. If that rate of price growth comes to fruition, it would mark the lowest price jump since 2012.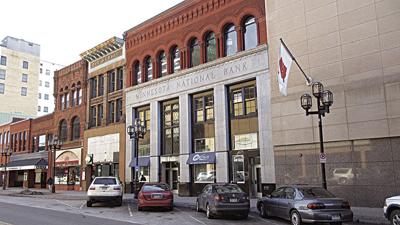 Following about four years of healthy growth, 2019 has been another banner year for commercial real estate transactions in Northeastern Minnesota and Northwestern Wisconsin. Although this market doesn't typically march in lockstep with national trends, our region has discovered plenty of its own catalysts for growth.
Two of the region's prominent commercial real estate brokers share their thoughts on the factors encouraging growth in their unique industry: Dave Holappa – owner of Holappa Commercial Real Estate in Duluth, who specializes in the greater Duluth-Superior area with occasional transactions on the Iron Range – and Greg Follmer – owner of Greg Follmer Commercial Real Estate, also of Duluth, who handles transactions north of Hinckley (including the Iron Range, North Shore, Iron River, Ashland and Cloquet, among other towns), but specializing in Duluth. Both handle real estate sales, leases and development, and represent buyers, sellers, landlords and tenants.
Both men share a healthy dose of optimism about the future.
Popular locations
Holappa and Follmer agree that Duluth's Lincoln Park has been the hottest market of 2019, hands-down.
"Lincoln Park is still rapidly developing," Follmer said. "Bent Paddle, Frost River and OMC are some of the big catalysts making it a very popular spot. Lincoln Park began by offering inexpensive real estate for people who couldn't afford to buy in Canal Park or the mall area. But property values are on the rise; a property that you could buy for $60,000 four years ago might sell for $150,000, or even up to $250,000, today. Now, we always have at least two to three deals in the works in Lincoln Park."
"Lincoln Park is hot," Holappa added. "What Tom Hanson (owner of Duluth Grill, OMC Smokehouse, Taco Arcada and Corktown Deli & Brews) has done out there has spurred some really nice things. Additionally, the breweries, along with Frost River, have done a nice job, and have also helped."
Follmer noted a few of his recent sales in Lincoln Park, including 2125 West Superior Street, which was previously the Lincoln Park Café. Here, Follmer represented the buyer. The property was sold to the Duluth Children's Museum for future use as museum space in March 2019 for $345,000.
And the former BPL Plasma location at 1720 W. Superior St., sold quickly to Alex Rodgers of EW Property Management last October at a full asking price of $475,000. Follmer represented the seller in that transaction. Information about the future use of the property wasn't immediately available as of this writing.
Holappa and Follmer are teaming up to sell the former Kemps Creamery Building at 1926 -1928 W. First St., with Follmer representing the buyer and Holappa representing the seller. The property remains in pending status at this time.
Besides Lincoln Park, another popular location has been the downtown neighborhood, partially in anticipation of the upcoming Essentia expansion.
"East Duluth will do really well, with lots of development on East Superior Street," Follmer noted. "There will be new growth, more opportunities, and I think we'll even watch First Street start to change, too."
"It'll be interesting to see what activity is spurred in that area," Holappa noted. "I think there will be some big development near the Voyageur Hotel."
Busy segments
Follmer handles commercial sales and leases for industrial, retail, office space, warehouse and medical segments. He noted that his biggest business in 2019 has been in the areas of small business buildings for use as office space or retail use, along with warehouses.
Holappa has seen similar trends in his business. For instance, he recently handled the sale of 4408 Haines Road, formerly the location for Spee Dee Delivery, which built a new facility on Rice Lake Road. The Haines Road property was sold to Haines Airport, LLC, which is the company that owns Johnson Mertz and Prime Appliance. The space will be used for their corporate offices, along with inventory storage.
The Essentia development in downtown Duluth, along with road construction and other projects, are creating spikes of activity in commercial warehouse leases. Follmer noted that warehouse leases are very competitive right now.
"Rates are rising because of the large construction projects in the area – highway and road construction, Essentia, and housing and retail development."
Follmer also noted the recent sale of the Younker'store at the Miller Hill Mall, and how it was repurposed as a wellness center.
"Even though Younker's was a 'big box' location, it was still valuable as already-built real estate," he said.
Development has also been another active segment of the 2019 commercial real estate industry. Holappa, along with another broker based in Virginia, is currently working on the development of a parcel of land in Eveleth.
"The client has 14.5 acres available for development," he said. "And I'm working with the seller to find a user."
And, Follmer noted that in 2019, he sold the parcel of land at 1801 London Road, previously owned by O'Reilly Auto Parts, to a developer. Today, that space is a new Sherwin-Williams paint store.
When it comes to prices that buyers find attractive, this can vary widely.
"Properties in the $500,000 range have a large number of potential buyers," Holappa said.
"A lot of people can afford the $200,000 – $600,000 range," Follmer added, "But we see a lot of turnover in the $300,000 – $1.5 million range, particularly in Duluth."
Superior is on the rise
Featuring two reconstructed thoroughfares (Belknap Street and Tower Avenue), Superior is also on the rise when it comes to commercial real estate. And Superior leadership appears to have a healthy appetite for additional industry in the city.
Holappa was the broker who handled the lease to put Raven Crossbows into the former Target location at 3535 Tower Ave. "The city of Superior was very helpful in that deal," Holappa noted. "We had to re-zone the space, and the city was pretty easy to work with. They wanted Raven there, and knew the company would bring good jobs to the area."
Holappa also shared that he is working on a deal to sell or lease the Rihm Kenworth facility at 4501 Tower Ave. Rihm Kenworth is in the process of having a new facility built – also in Superior – in the Winter Street Industrial Park. The Tower Avenue property will be listed sometime in 2020.
Factors affecting the industry
There are a few prominent factors affecting commercial real estate sales, including tax laws, elections, lending rates, consumer demand and employment trends. But interestingly, the regional market doesn't typically follow suit with the rest of the country.
"Our market is unique," Follmer said. "It's a cold-weather place, and the tax situation here can create some challenges. We have a good, stable market, but it's a small market. We don't see the big ups and downs like the East Coast, West Coast and bigger cities."
Holappa concurred. "Our highs aren't as high, but our lows aren't as low as other places. Florida and Arizona, for instance, which were both so depressed a few years ago, are now really hot."
Holappa shared that many developers are actively searching for properties in what are known as Opportunity Zones, which provide tax advantages for building in economically-challenged areas. Interestingly, two of the hottest Duluth markets – Lincoln Park, along with Superior Street located in front of Essentia – fall under that umbrella.
Optimism about the future
Holappa and Follmer both feel optimistic about the future of commercial real estate in the region.
"The market is pretty stable, and I expect that to continue into next year," Follmer said. "There is good confidence in this area, with lots of small business growth. Duluth, in particular, is a good, vibrant community when it comes to entertainment, the arts and the downtown.
"As for my thoughts on sales in 2020," he added, "I can tell you that we're getting phone calls every day, and listing new properties every week."
Office space: 1 E. First St. and 5 E. First St., Duluth.
Closed: 11/12/2019.
Price: $1,250,000.
Seller: H & G Development, LLC – 3785 Okerstrom Road, Hermantown.
Buyer: Roers Lake & First LLC – 110 Cheshire Lane, Suite 120, Minnetonka.
Prior use: Office / general office.
Planned use: Other/special use / unspecified/other.
Apartment building: 2095 SE 7th Ave., Grand Rapids
Closed: 10/31/2019.
Price: $8,700,000.
Seller: River Hills Apartments, LLC, 17018 Commercial Park Rd, Brainerd.
Buyer: River Hills of Grand Rapids, LLC, 13925 Fenway Blvd, Hugo, Minn.
Prior use: Residential / apartment (4+ units).
Planned use: Residential / apartment (4+ units).
Mountain Iron Hotel: 8570 Rock Ridge Dr., Mountain Iron.
Closed: 09/30/2019.
Price: $9,050,000.
Seller: Home on the Range, LLC – 1627 N 34th St., Suite 1, Superior.
Buyer: Mountain Iron Hospitality Exchange, LLC – PO Box 339, St. Cloud.
Prior use: Lodging / hotels/motels /full service.
Planned use: Lodging /hotels/motels /full service.
HOM Furniture: 4726 Loberg Ave., Hermantown
Closed: 10/22/2019.
Price: $6,250,000.
Seller: SVCN 1 LLC – 255 Washington St., Suite 300, Newton, Mass.
Buyer: Hermantown Holdings, LLC – 1300 U.S. Bank Plaza, 200 S. Sixth St., Minneapolis.
Prior use: Retail / general retail / other / special use / parking surface.
Planned use: Other / special use / parking surface.
TRU by Hilton hotel: 503 Clearwood Dr., Duluth
Closed: 07/18/2019.
Price: $13,000,000.
Seller: Multiple (Jn Miskavige, Ryan Carlson and Northridge 41957 Exchange LLC).
Buyer: Multiple (Duluth Real Estate TIC, LLC, and D&D Real Estate Holdings II, LLC).
Prior use: Lodging / hotels / motels / full service.
Planned use: Lodging / hotels / motels / full service
Ordean Building: 424 W. Superior St., Duluth
Closed: 09/03/2019.
Price: $1,200,000.
Seller: Ordean Foundation, 501 Ordean Bldg., 424 W. Superior St., Duluth.
Buyer: 424W, LLC – 207 Misquah Road, Duluth.
Prior use: Office / general office
Planned use: Office / general office
Potlatch land: Vacant land, Babbitt
Closed: 09/27/2019.
Price: $4,919,155.
Seller: Potlatch Minnesota Timberlands, LLC, 601 W. First Ave., Suite 1600, Spokane, Wash.
Buyer: Twin Metals Minnesota, LLC, 380 St. Peter St., Suite 705, St. Paul.
Prior use: Unimproved / vacant land / rural / vacant.
Planned use: Unimproved / vacant land / rural.
Carlton AmericInn – 1716 Highway 210, Carlton
Closed: 03/04/2019
Price: $2,850,000.
Seller: Reeti, LLC – 8335 Apple Tree Lane, Chanhassen.
Buyer: Fond Du Lac Band of Lake Superior Chippewa, 1720 Big Lake Rd, Cloquet.
Prior use: Lodging / hotels / motels / extended stay.
Planned use: Lodging / hotels / motels / extended stay.